Institution No More: 10 Years of Freedom!
Oct 05, 2023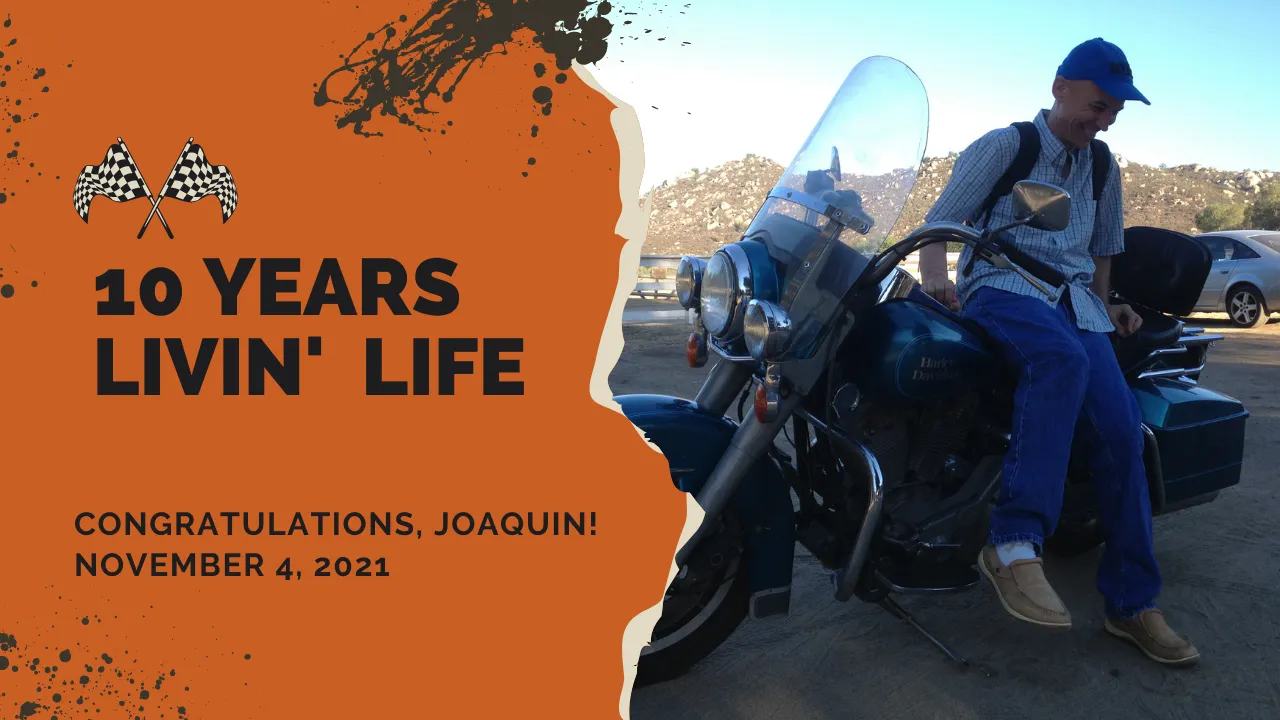 November 4th, 2021 marked Joaquin's 10th anniversary of his exodus from the institution. TEN YEARS!!! We did it!!
Wow. In those 10 years we had many ups and downs, revelations and revisions, celebrations, scares, and heartbreaks. We've seen and grown accustomed to many firsts.
Like the first time Joaquín got his own blanket out of his own closet when he wanted it without having to ask anyone. And he giggled with excitement after doing so. He learned that he was free to choose.
Like the first time he pounded on the windows of his house. And he broke the window and cut himself. We learned that shatter-proof windows are a good idea.
And like the time he walked to my house. Alone. Without telling his staff. That was fun! (Staff didn't think so.) He learned that he really was free!
And the first time my dad saw Joaquín walk to my house by himself. Dad cried. We learned that Joaquín was capable of so much more than we ever imagined.
Oh, and the time that he knocked over the refrigerator. We learned that securing heavy furniture is important.
And the first time Joaquín independently used his grabber stick to pick up trash in the park. He was painfully slow and intentional while for months, staff helped with hand over hand support. But now the grabber stick is a natural extension of his arm. He learned that we are here to support his growth, no matter his pace, and that there is hope.
And we lost our mother, whose dying wish was that her son would be happy and safe. That was hard. Months of head banging. A law enforcement incident. Grand mal seizure. We learned that the grieving process is hard. For everyone.
There was also the first time Joaquín drank beer. And the second time. And the third time. And so on. We learned that Joaquín loves his beer!
And then there was the first, second, and third fire evacuation with no place to go. We learned that hotels and evacuation centers are not accessible for Joaquin's behavior needs. And that we have some work to do.
Communication as a priority has been a first in Joaquin's life. Joaquín has multiple ways of communicating now. And his voice is heard and honored. We've learned to trust his communication. And he's learned that his voice matters to us.
All this to say that life can get messy. But life is amazing. And it was worth every ounce of fight our family and friends put up to get Joaquín out of the institution.
I'm so proud of how far we've all come. Much love to his premium-quality direct support professionals, and our friends and family, who all make his self-determined life, and our family's peace of mind, a possibility. To say that we appreciate the love and support of our community would be a gross understatement. We wouldn't have survived and thrived without it.
*****
To learn about Joaquin's journey from institutionalization to community living, watch Diana's TEDx Talk here. Or listen to her podcast interview on the Think Inclusive Podcast here. Diana is an educator, speaker, author, and podcast host of Beyond Awareness: Disability Awareness That Matters.
For Diana's free resource for educators, The 5 Keys to Going Beyond Awareness, click here.
Learn more about Diana & Joaquin's journey to inclusion, and the educational work that is transforming homes, schools, and communities. 
I want to know more!
Stay Connected
Sign up to receive resources and updates from Diana. Your information will never be shared.